BondPub™
Fixed Income Trade Order & Execution Manager
BondPub delivers bond traders a consolidated fixed income trading platform and execution management application platform to control the outbound distribution of their corporate, agency, or municipal bond quotes and request for quotes (RFQs), aggregate the inbound order flow and market feeds from the most requested alternative trading system (ATS) venues, and manage trade reporting through one simple real-time interface.
BondPub™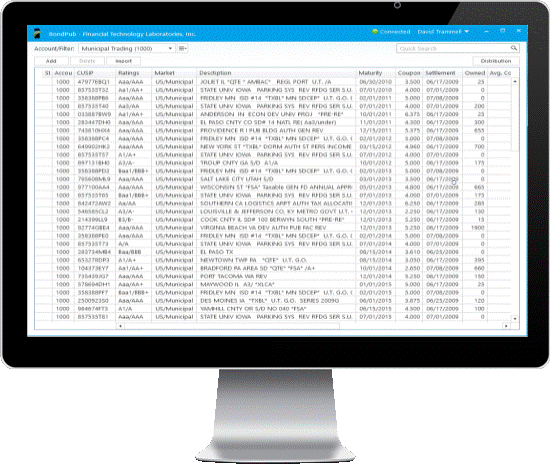 BondPub streamlines trading workflow. By bringing all trading functions together in a single interface, it frees traders to trade without being slowed by different systems that don't work together. It transforms the workflow between the trader and the trading venues so traders focus on trading rather than the mechanics of the different platforms.
BondPub not only provides an excellent integration platform for the electronic trading venues but readily integrates with the firm's existing in-house or vendor systems.
Positions in BondPub are maintained directly in a familiar spreadsheet-like interface making it simple to manage track owned quantity and cost of holdings across multiple trading accounts.
Outgoing bid and offer quotes and bid-wanted and offer-wanted RFQs going to multiple trading venues are easily managed directly from the BondPub UI. When a quantity or price changes on a quote or an RFQ in BondPub, it is immediately published to all trader-selected destinations.
Hit of lift orders placed on a connected trading venue against published quotes or RFQs are routed back to BondPub's trade order blotter.
Using BondPub, traders can efficiently manage quote, RFQ, and order flow with the most requested electronic trading venues, including:
ICE TMCBonds

TradeWeb Direct

ICE BondPoint

Bloomberg
MuniBrokers

MTS BondsPro
When incoming orders are received and confirmed with a connected trading venue, trade reports can be submitted automatically or manually through the appropriate trade reporting integration with one or more clearing vendors.
Integration for trade reporting and acknowledgment to enable straight-through-processing (STP) is available for multiple clearing vendors, including:
Pershing

Fidelity National Financial (NFS)

RBC

Broadridge

Hilltop Securities Clearing Service