Request Download: PortFini Fixed Income Portfolio Presentation System Brochure
Download this sales brochure to learn the key benefits and features of FTLab's web-based, cloud-hosted, portfolio modeling and presentation system, PortFini, specifically for fixed income advisors.
Some of the nation's most successful advisors use PortFini in selling and communicating with existing clients as well as making proposals to gather assets from new clients.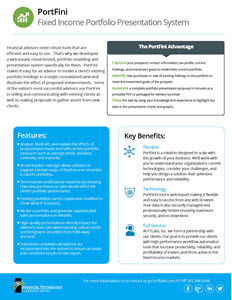 PortFini's reports and analytics are user-friendly. The system supports a broad range of securities including municipal bonds, corporate bonds, treasury bonds, government agency securities, certificates of deposit, preferred securities, and more.
PortFini is loaded with features for generating sophisticated sales presentations:
Display to a client the basic cash flows of their portfolio – including interest payments and return of principal.
Generate a summary breakdown by maturity, credit quality, security type, and monthly income.
Show your client an annual income report by month.
Visit our PortFini product page for more information and presentation system illustrations.